In the neighbourhood of the hotel there are many great bicycle trails where you can go for day tours.  You can choose between short or long trails, easy or tough mountain trails, its all up to you.  Many trails have been published in the book "Hjólabókin nr. 5 Rangárvallasýsla" by Ómar Smári Kristinsson.
In the book he describes each trail in detail with images and GPS points.  We recommend everyone to get hold of this book if they are interested in taking a bicycle adventure in Rangárvallarsýsla.  You can read about the book here or send the author an email and purchase it at mynd@snerpa.is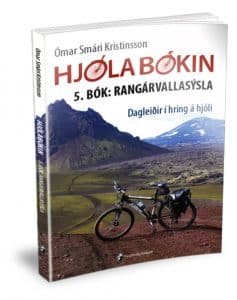 Few examples of trails from the book:
Ytri-Rangá – ~80 km*
Merkurhraun –  ~43 km

Starting point from Skarð ( 8 km from Landhotel)

Krakatindur – ~40.5 km in the highlands
Uppholt & Asahreppur – ~42 km*
Djúpárhreppur, Ásahreppur, Holt og Land – ~65 km*
*Starting point from the hotel
At Landmannalaugar there are many nice mountain trails which can be explored in a fantastic surroundings or you could go the Búrfells circle wich is over 100 km long but easy to ride.
At the hotel there is a bicycle storage where guests can store their bicycles during their stay.